Posted June 29, 2023 in Tummy Tuck
There is no one-size-fits-all approach to plastic surgery. What works for one patient will not necessarily work for the next. Because of this, Dr. Ghere offers multiple options and techniques for cosmetic procedures, such as tummy tuck surgery (abdominoplasty).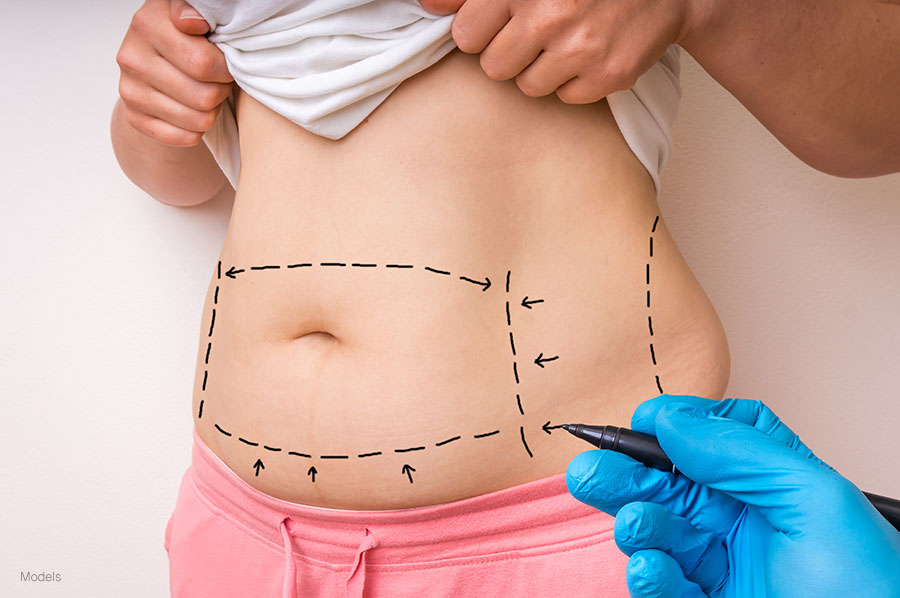 While Dr. Ghere will listen to your cosmetic goals and evaluate your condition to help you decide which tummy tuck is best for you, below is some information about traditional and mini tummy tucks so that you can better understand these procedures and the results they can achieve.
What Is a Tummy Tuck?
People often accumulate excess fat and sagging skin in the midsection. Additionally, women and men who have recently experienced weight loss or women who have given birth can notice loose skin in the abdomen and tummy. A tummy tuck helps to correct these aesthetic concerns by creating a slimmer and tighter midsection.
Dr. Ghere offers two different tummy tuck options to help correct specific areas of the midsection.
What Can a Traditional Tummy Tuck Achieve?
With a traditional tummy tuck, Dr. Ghere will use liposuction surgery to remove any stubborn subcutaneous fat in the belly area. Dr. Ghere will then tighten the underlying abdominal muscles to strengthen the core and correct issues such as diastasis recti (separation of the ab muscles, often from pregnancy and childbirth).
Next, Dr. Ghere will surgically remove any excess skin and pull the remaining skin tight before closing the incisions.
For some patients, an additional incision is made around the navel to reposition the belly button to a more natural location.
What Can a Mini Tummy Tuck Achieve?
A mini tummy tuck includes many of the same techniques and aspects of a traditional tummy tuck; however, with a mini tummy tuck, the focus is on correcting aesthetic issues below the belly button. This means that there is no additional incision around the navel.
While a traditional tummy tuck is ideal for patients with moderate to severe muscle and skin laxity, a mini tummy tuck is often a great option for women and men who have mild aesthetic concerns in the midsection.
Because a mini tummy tuck is a less extensive procedure, the incision (and resulting scar) is shorter than the incision used for a traditional tummy tuck.
What Can a Fleur-de-Lis Tummy Tuck Achieve?
A fleur-de-lis tummy tuck is an extended tummy often reserved for patients after significant weight loss (either naturally or with weight loss surgeries like gastric bypass or gastric sleeve surgery).
This technique removes excess skin above and below the belly button and removes skin both horizontally and vertically on the abdomen. Therefore, a traditional horizontal incision is made low on the abdomen and a vertical incision is made above the belly button.
When complete, this specialized procedure will result in an upside-down "T".
What Can a Floating Umbilicus Tummy Tuck Achieve
A floating umbilicus abdominoplasty, also known as a floating tummy tuck, is a less-common tummy tuck technique performed for patients who want to relocate their belly buttons. Candidates for this technique often require muscle tightening but have very little excess skin.
With this technique, the belly button is disconnected but remains connected to the surrounding skin, which is different from a standard tummy tuck since the belly button tends to remain connected to the abdominal muscles.
Why Is It Beneficial to Have Tummy Tuck Options?
By providing tummy tuck options, Dr. Ghere can help each of her patients achieve their optimal results. By having options, you are able to have a more customizable procedure than with other cosmetic surgeons, who only offer one form of abdominoplasty.
While a tummy tuck can help restore a more appealing body shape, it is important to understand that the benefits of this procedure are not just physical. After your procedure, you can look forward to having increased confidence with how you look, which can help you feel more comfortable in your skin.
How Can You Get the Most Out of Your Tummy Tuck Procedure?
There's no doubt about it: a tummy tuck can help you look and feel great. However, if you are looking to achieve a more comprehensive improvement to your body contours, then you may want to consider combining other procedures to your tummy tuck.
In addition to liposuction, many women choose to have a Mommy Makeover surgery, which adds liposuction as well as breast surgery (a breast augmentation and/or a breast lift) to their tummy tuck to help them achieve a full-body transformation.
During your consultation, you will be able to discuss combining procedures with Dr. Ghere.
Want to Learn More About Tummy Tuck Surgery in Baton Rouge?
If you are interested in a tummy tuck in Baton Rouge, Louisiana, contact Dr. Ghere at her office at (225) 412-4774 or schedule a consultation with us online today. Dr. Ghere and her highly skilled and knowledgeable staff look forward to helping you look and feel the way you've always wanted!