Posted October 14, 2019 in Blepharoplasty
2 minute read: 
Sagging skin, fatty tissue, and dark circles around the upper and lower eyelids can cause a person to appear angry, tired, or much older than they are.
Certain lifestyle factors such as sun damage, aging, and improper skin care can cause our eyes to develop wrinkles and fine lines around the area.
Fortunately, there are surgical procedures that can help you achieve the look you desire while also treating the facial concerns listed above.
Blepharoplasty can improve a patient's sagging or tired-looking eyelids for a more youthful and attractive appearance.
What Is Eyelid Surgery?
Blepharoplasty, also known as eyelid surgery, trims excess skin and fat on the upper and lower eyelid to produce a relaxed and aesthetically pleasing eye contour.
Many patients considering eyelid surgery typically struggle with hooded or droopy eyelids on the upper eyes that impairs their field of vision.
Others want to treat bags, dark circles, or wrinkles that have formed under the eyes that can cause them to look tired and worn out.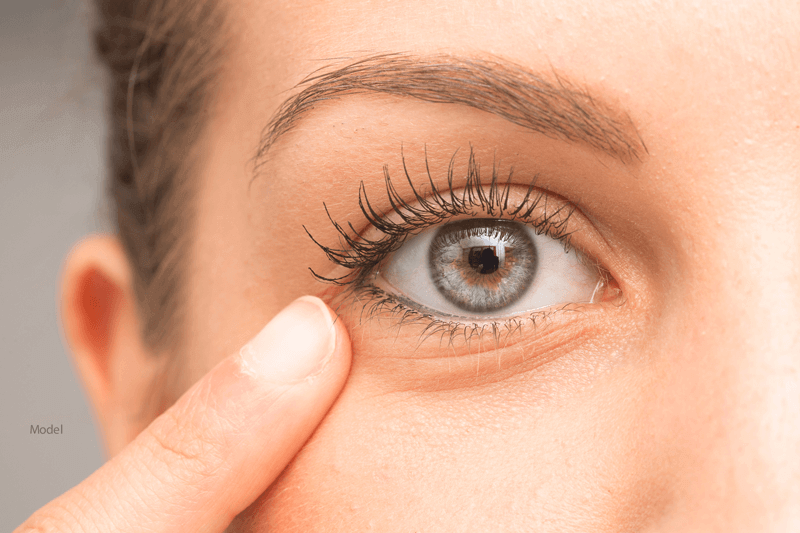 How Can Blepharoplasty Benefit Me?
Natural Enhancement
It is a fact that by performing upper blepharoplasty in the effort to excise all of the excess skin, the shape of the eye changes from a natural almond shape to a round shape.
Dr. Ghere understands the importance of maintaining the structure of the eyes to provide natural, youthful results that do not appear overly stretched.
Customized Rejuvenation
Regardless of your concerns, Dr. Ghere takes the time to discuss all of your preferences and your desired results to enhance your eyelid structure and provide subtle details in their shape.
Whether you're seeking to improve your vision by removing hanging eyelid skin, or you want to appear younger, your goals can be achieved through blepharoplasty.
Increased Confidence
Laxity of the tissues at the corners of your eyes that attach to the skull, the descent of the muscles that open and close the eyelids, herniation of the fat pads, loose and excess eyelid skin, and texture changes in the surrounding skin can all contribute to an aging appearance.
Reducing these signs of aging can boost self-confidence.
Have More Questions?
To learn more about eyelid surgery or to learn more about cost and if you are an ideal candidate, please contact Dr. Ghere's Baton Rouge, LA, office at (225) 412-4774 or schedule a consultation with us online today!