Posted June 15, 2020 in Brow Lift, Facelift
2 Minute Read: 
If you would like to make aesthetic improvements to your face to make yourself look younger, you may be considering either a facelift or a brow lift. Both anti-aging techniques are excellent options that will provide proven, lasting results, but they also treat very different concerns. When considering any facial cosmetic surgery, it is beneficial to understand all of your options.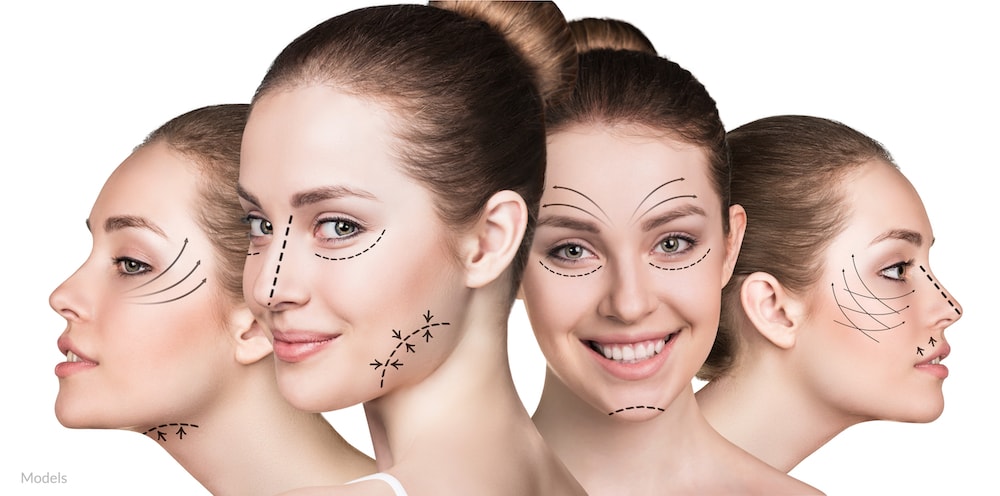 What Is a Facelift?
Although the name seems to imply that it will impact the entire face, facelift surgery only affects the lower two-thirds of the face and neck. Small incisions are made near the temple that are hidden within the hairline. With these incisions, the surgeon has access to the underlying facial layers, which are tightened for a lifted, smoothed-out appearance.
A facelift is commonly used to target deep lines and wrinkles around the mouth and nose or sagging skin around the neck. Total recovery time for a facelift can range from two to four weeks.
What Is a Brow Lift?
Brow lift surgery smooths out deep wrinkles around the eyes, between the eyes, and for the upper and lower eyelids. This procedure uses small incisions to tighten tissues in the upper third of the face, including the forehead and brows. 
While brow lift surgery is chosen to minimize wrinkles on the upper portion of the face, it is also appropriate when wishing to lift and correct sagging eyebrows. This technique raises and contours the eyebrows to be more shapely and take pressure away from the eyelids. 
What Is the Difference Between a Facelift and a Brow Lift?
Both procedures involve tightening the underlying facial layers to remove or reduce wrinkles and deep lines on the face. The main difference between the two procedures is the facial area they target. The brow lift is an appropriate choice for targeting the upper half of their face, while the facelift is best for the lower face. 
Many patients choose to undergo a facelift and a brow lift simultaneously to promote facial balance and harmony.
Which Facial Surgery Is Right For Me?
If you are unsure of your "trouble" areas, consider discussing your options with a plastic surgeon. The answer will largely depend on where your problem areas are. If you are unhappy with both the lower portion and the upper portion of your face, you may choose to do both procedures.
Interested in Learning More?
Dr. Ghere is a top plastic surgeon dedicated to giving her patients the results they have been dreaming about. Contact Dr. Ghere to see what procedures are right for you. Schedule an appointment by calling (225) 412-4774 or by filling out our online contact form.