Posted March 30, 2020 in Sun Damaged Skin
3 Min Read:
There is nothing quite like feeling the sun's warmth on your skin. We have all heard about the importance of protecting our skin from the sun, but most people do not take it seriously.
Without proper sun protection, your skin is more likely to develop wrinkles, dark spots, discoloration, and dryness.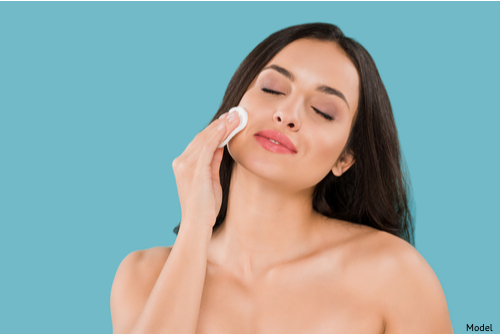 It is hard to reverse the effects of sun damage on the skin. That is why it is important to take care of your skin before it becomes damaged by the sun.
What Does Sun Damaged Skin Look Like?
A 2017 study by Harvard Medical School found that ultraviolet radiation weakens the bonds between cells in the stratum corneum, which is the top layer of skin. This is why a sunburn often leads to skin peeling.
The stratum corneum is our first line of defense, and it is critical to apply sunscreen daily and throughout every season.
Failure to do so could lead to a skin condition called actinic keratosis. This condition is caused by sun damage and can leave your skin feeling rough and scaly.
Other indicators that you have sun-damaged skin include:
Dry skin—The skin may feel flaky and more wrinkled than other parts of the body.
Sunburn—The skin may be red and cause pain
Changes in pigmentation—The skin may develop brown spots (age spots)
Long-term effects—You may notice fine lines and deep wrinkles as a result of your skin producing less collagen
How Can I Protect My Skin From the Sun?
There are simple ways you can protect your skin from sun damage, including:
Apply sunscreen before you go outdoors
Use sunblock on your lips
Wear sunglasses
Cleanse your face daily
What Is the Best Treatment for Sun Damaged Skin?
Injectable Fillers
Even with adequate sun protection, skin damage is nearly impossible to avoid. Luckily, injectable fillers can treat fine lines, deep wrinkles, and volume loss. Repeated treatments are recommended for long-lasting improvements.
Even though injectable fillers address fine lines and wrinkles that may be a result of sun damage, they cannot improve skin tone or texture (as they work on the volume loss beneath the surface).
ZO® Skin Health
ZO® Skin Health offers a line of skincare products that target sun-damaged and pigmented skin. These products are made with high-quality ingredients that target the root of the damage to repair, restore, and reinvigorate sun-damaged skin.
Laser Resurfacing
Laser resurfacing uses targeted laser energy to identify and correct sun-damaged and pigmented areas and improve skin tone and texture. Laser resurfacing can be ablative (where the top layers of skin are removed) or non-ablative, depending on your skin needs.
Peels
Chemical peels involve applying a chemical solution that causes the uppermost layers of damaged skin to flake and peel off. These layers are often the epicenter of sun damage, and, therefore, chemical peels are a useful treatment for sun-damaged skin.
Have More Questions About Skin Protection?
If you would like to learn more about the skin care treatments we offer, call our Baton Rouge office at (225) 412-4774 or fill out our online consultation form.