Posted May 03, 2021 in Facial Fillers, Injectables
3 Minute Read: 
Looking your best on your wedding day is every bride's desire. 
Although scheduling radical cosmetic procedures right before your big day can be risky, dramatic results with virtually no recovery time can be achieved with dermal fillers.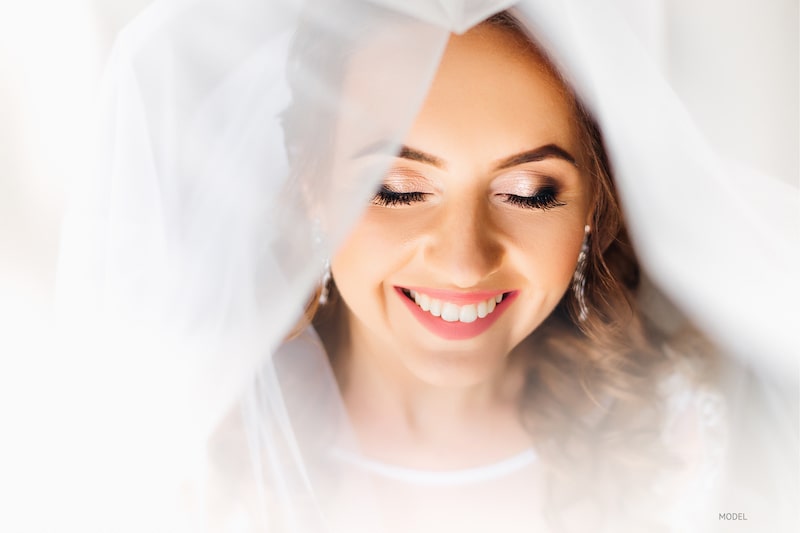 Should You Consider Dermal Fillers Before Your Wedding?
Your wedding day is something that you will remember forever and a day that will be captured permanently in photos, videos, and social media posts. If there was a day to be at the top of your game—cosmetics-wise—it's your wedding.
Dermal fillers give many brides that extra something to allow them to shine on their big day, both appearance and confidence-wise. Whether it's a little extra pout for your lips or some plumpness in your cheeks, dermal fillers allow you to look youthful and healthy.  
Are Dermal Fillers Right for You?
Anyone in good health who would like to increase their facial volume is a good candidate for dermal fillers. Those who do not smoke and follow a healthy skin regime are most likely to achieve longer-lasting results. 
As with all cosmetic procedures, maintaining reasonable expectations is important. 
Depending on the type and density, dermal fillers can last anywhere from six months to two years.
What Are the Benefits of Dermal Fillers Before Your Walk Down the Aisle?
Injectable dermal fillers, such as JUVÉDERM® and Restylane®, restore volume loss in key areas, reduce the appearance of fine lines and wrinkles, and highlight primary facial features, such as the cheeks and the lips. 
You can also consider other injectable treatments like neurotoxins (BOTOX® Cosmetic, Dysport®, or XEOMIN®) or KYBELLA® (to eliminate submental fat, more commonly referred to as the "double chin").
How Are Dermal Fillers Injected?
After an initial assessment and mapping of the treatment areas, the dermal filler process is simple: 
The skin is cleansed

A topical numbing cream is applied

Multiple injections are strategically placed 
While not completely pain-free, most patients can tolerate the injections well. Many types of dermal fillers contain trace amounts of lidocaine to reduce discomfort during and after injection.
How Soon Before My Big Day Do I Need to Schedule My Appointment?
There is no real downtime involved with dermal fillers, and you won't have to refrain from your normal schedule. 
At most, there may be some swelling and redness around the injection site(s) that can be treated with cold compresses. These will fade completely within a day or two.
To be safe, plan on scheduling your dermal filler appointment a few weeks before you say, "I do."
Interested in Learning More?
If you would like to know more about adding dermal fillers to your summer wedding day preparations, get in touch with the friendly staff at Ghere Plastic and Reconstructive Surgery in Baton Rouge, Louisiana. 
They will answer all your questions about injectable dermal fillers. Call now at 225-412-4774 or use the contact form to schedule your consultation.