Posted December 30, 2019 in Breast Reconstruction
3 Min Read: 
A breast reconstruction surgery helps to restore one or both breasts most commonly performed after a mastectomy for breast cancer treatment.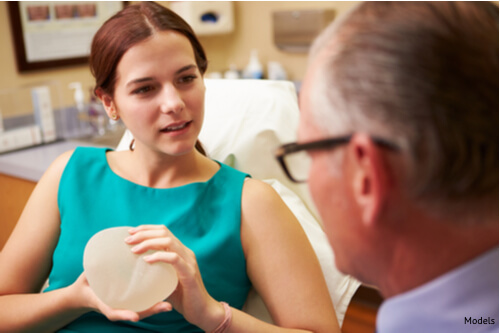 Women may also seek breast reconstruction surgery for nipple reconstruction.
After going through breast cancer and a mastectomy, it can feel as if you have been stripped of an important part of your body. This can not only diminish your confidence, but it can also make you feel less feminine.
A breast reconstruction surgery, with careful recommendations from Dr. Ghere, will ensure your goals are met with a sincere approach.
Over 100,000 women chose to have breast reconstruction surgery in 2018, according to the American Society of Plastic Surgeons. If you may be considering breast reconstruction surgery, you can fill out our online contact form here.
Implant vs. Tissue Flap Reconstruction
There are different options for breast reconstruction surgery ––Dr. Ghere offers expander and implant reconstruction and tissue flap reconstruction.
Both techniques offer excellent results, but it is a matter of deciding which option is best for you.
Expander and Implant Reconstruction
Breast reconstruction with implants is possible if the mastectomy or radiation therapy has left enough tissue on the chest wall to cover and lend support to the breast implant.
A temporary expander is inserted into the breast pocket to stretch the soft tissues so that it can cover the breast implant overtime.
The expander is filled with saline solution over a few weeks to stretch out the soft tissue. The expander is then removed and replaced by a breast implant.
A new type of technique allows the tissue expander to self-expand without the need of a saline solution.
The length of time will vary from patient to patient, and these techniques may not be suitable for everyone.
Tissue Flap Reconstruction
Patients who do not have a sufficient amount of tissue that can support breast implants may choose a tissue flap reconstruction as an alternative.
This technique rearranges soft tissues, typically from the lower abdomen, to reconstruct the breasts. This procedure disconnects blood vessels from their native location and sews the vessels into the chest.
Some women may not be the right candidate for a tissue flap reconstruction if they do not have enough tissue in the lower abdomen or important blood vessels that are needed.
What Is the Recovery Time for Breast Reconstruction?
The recovery time for breast reconstruction surgery will vary on a case to case basis and on the specific technique performed.
Generally, an expander and implant reconstruction takes more time to achieve the final results but allows for a smoother recovery than a tissue flap reconstruction.
A tissue flap reconstruction surgery is more extensive, but the goal is typically achieved within a single operation.
Revision surgeries for both procedure techniques may be necessary in the future.
Have More Questions?
If you want to learn more about our breast reconstruction options in Baton Rouge, LA, call our office at (225) 412-4774.