Posted January 17, 2020 in Mommy Makeover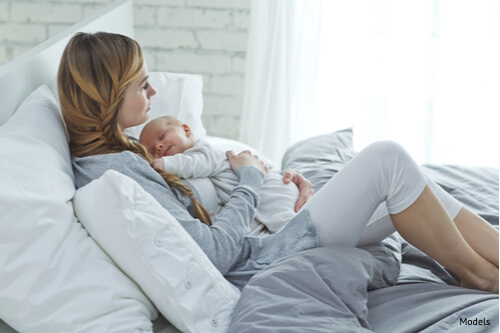 2 Min Read: 
Becoming a mother is one of the greatest experiences of a woman's life.
A woman's body spends nearly 40 weeks changing and adapting to create human life, so it is expected that the process takes a tremendous toll on their body, emotionally and physically.
Loose skin, weakened abdominal muscles, deflated breasts, and stubborn fat are just a few of the developments that may become more noticeable after pregnancy.
The term Mommy Makeover has gained popularity among mothers as a surgical way to restore their confidence and pre-pregnancy appearance.
As with any plastic surgery procedure, it is essential to do your research beforehand so that you can be fully prepared.
What Is a Mommy Makeover?
The Mommy Makeover is a personalized set of procedures that target the breasts, abdomen, and any other regions affected by pregnancy or childbirth.
Your customized surgical plan will be discussed during your consultation with Dr. Ghere.
Common surgeries performed in a Mommy Makeover include:
What Should I Know Before My Mommy Makeover?
To prepare for a Mommy Makeover, you should:
Maintain a Healthy Weight
Although a Mommy Makeover procedure can remove excess fatty deposits, it is not designed to be an all-inclusive weight loss procedure.
This is why it is important to be at a weight that you are content with before your Mommy Makeover.
Think About Finances Early
A Mommy Makeover is an extensive operation that includes multiple surgeries, which means the total cost can be pricey.
According to the American Society of Plastic Surgeons, you can expect to pay between $9,000 to $20,000 for your Mommy Makeover.
Think About Future Pregnancies
Since a Mommy Makeover can be a financial investment, it is important to have an honest conversation with yourself to see if you may want more children in the future.
Although this is not a requirement, another pregnancy may damage the quality of your results.
If you think that additional children may be a possibility, it may be best to wait on your surgery.
Plan for Lengthy Recovery
Since a Mommy Makeover combines multiple surgeries and treatment areas, it may require extra time to recover fully.
You should plan to have extra help at home to care for you and your family during the initial days of your recovery.
Taking it easy during this time can help speed up the healing process and ensure the incisions heal properly.
Be Patient
Your results will take time to become apparent after your plastic surgery procedures. These results will develop slowly as the swelling and bruising lessen.
Want to Learn More About Mommy Makeover?
If you want to learn more about a Mommy Makeover, call our office in Baton Rouge, Louisiana, at (225) 412-4774 or fill out an online consultation.