Posted September 17, 2020 in Breast Lift Surgery
4 Minute Read: 
Breasts are a significant and symbolic part of being a woman, and most wish they could somehow improve on what they have—especially when factors like age or childbirth have changed how the breasts look. Age, pregnancy, weight loss, and gravity do a number on a woman's breasts, leading to self-esteem and confidence issues.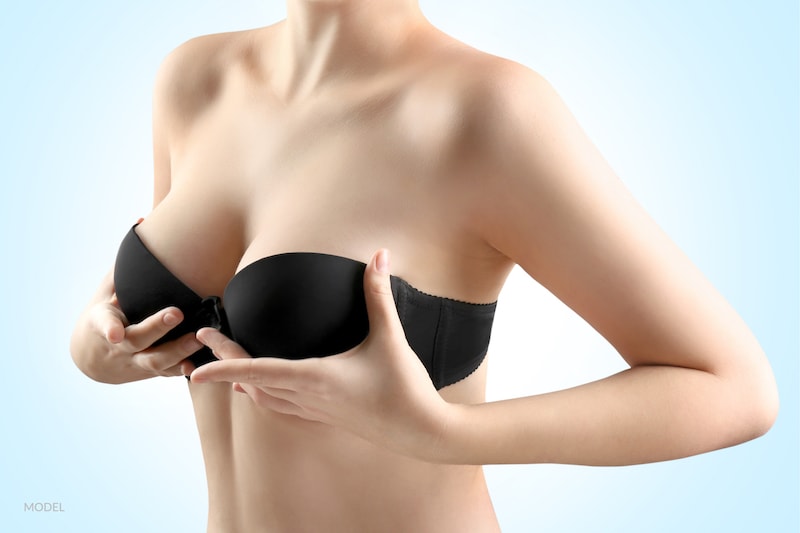 Many women are under the impression that breast augmentation with implants is their only way to enhance their breasts' shape and appearance. This is far from reality. Breast lift surgery is performed to correct some of the sag and droop that occurs naturally over time, and, for some women, is more beneficial than implants.
What Does a Breast Lift Do That Breast Augmentation Doesn't? 
Breast augmentation is performed to increase breast fullness by inserting saline or silicone implants. These implants do improve the shape of the breasts (as implants are available in round or anatomical forms to fill out and alter your silhouette); however, that is all that they do. A breast augmentation cannot rectify moderate to severe breast sag that occurs with age and weight fluctuations. And, in some cases, heavy implants may only make the sagging worse.
Breast lift surgery does correct sagging breasts because, unlike implants, it manipulates and tightens the internal tissues. Breast lift surgery removes excess skin from the breasts and tightens the underlying tissues that have stretched and become elongated. 
The result of this is a firmer, higher-sitting, and more youthful-looking breast.  
Is a Breast Lift Right for Me?
While the breasts are tight and perky when they first develop, they start to weaken due to many factors, including weight fluctuations, pregnancy, age-related tissue laxity, and bad habits (such as not wearing a supportive bra).
These factors impact the tissues in the breasts, and, eventually, they will start to elongate. This aesthetic change can be difficult for many women, as sagging breasts are commonly seen as signs of age. This sagging may even be so severe that it causes a woman to lose confidence in her self-image, impacting how she presents herself—particularly in intimate settings.
A breast lift can help these concerns by restoring tighter, perkier breast contours. Breast lift surgery can be performed on women of all ages; however, it is most commonly performed on women after they have had children and are starting to see the gradual droop of their bust.  
Am I a Breast Lift Candidate?
Anyone in good health who feels that they would like to correct their drooping breasts may be the right candidate for a breast lift. As with any surgery, smoking is discouraged as it can hinder the healing process. Patients should have realistic expectations about what the procedure can accomplish. Be sure to discuss your expectations and any concerns you might have with your surgeon during the initial consultation.
How Is a Breast Lift Performed?
So much of this surgery will be determined by your body shape, health, and the condition of your breasts, so be sure to have a conversation with your surgeon about your breast lift options.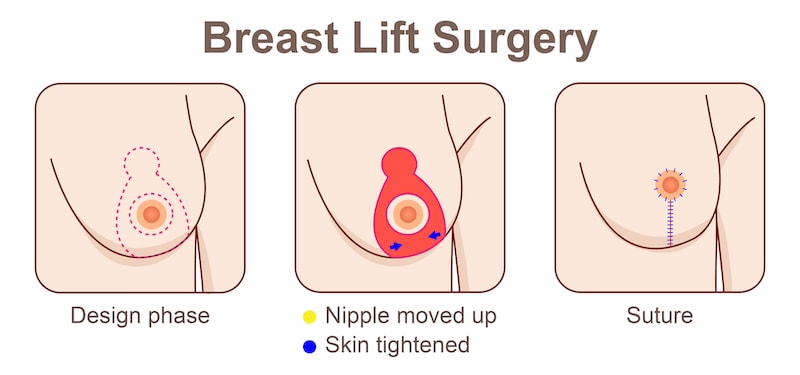 Breast lift surgery (mastopexy) is performed under a general anesthetic. An incision is made around the areola and below the breast. The surrounding skin and tissue are then tightened and sutured to create the appearance of a higher, younger breast.
Will I Only Need a Breast Lift?
While some women only undergo a lift, this breast enhancement procedure is commonly performed with other surgeries, such as breast augmentation, breast reduction surgery, and breast revision surgery. 
How Long Does a Breast Lift Last?
Although the results of your surgery will be immediately apparent, breast position will continue to evolve as swelling subsides and your body heals. Staying healthy and maintaining a consistent body weight are key to achieving long-lasting results. It's important to remember that while this procedure can reverse the effects of aging and pregnancy, it does not stop that process.
Interested in Learning More?
If you are curious about what a breast lift can do for your silhouette and sense of self, get in touch with the friendly team at Ghere Plastic and Reconstructive Surgery in Baton Rouge. Call 225-412-4774 or fill out our online contact form to schedule a consultation.